Meet your safety obligations, performance and environmental standards with Stannah's support.
As the need to adapt in the UK continues, there are new safety requirements and updated advice for using lift facilities. Stannah has a range of options to ensure every passenger using any elevator or travelator feels safe doing so. 
It doesn't matter whether it's a lift in a supermarket, public building, office or school; we can help to ensure a healthy environment and safer user journeys. 
Lift services and upgrades to support you
We have a range of safety products and solutions to help ensure your lifting device is safe to use and that you can give passengers clarity on how to operate it.
Our range of escalator and lift solutions include:
Cleaning & sanitation upgrades
Cleaning & sanitation upgrades
Anti-microbial coatings for buttons and handrails
Deep cleaning to reduce contamination risk
Emission-free lift disinfectant for any platform or passenger lift
Special escalator disinfection devices
Contactless technologies
Contactless technologies
Customised touchless solutions such as remote call functions
Offer minimum contact with lift buttons and other surfaces
Perfect solutions for giving your passengers confidence
Cost-effective safety labels
Cost-effective safety labels
Social distancing door signage
Floor stickers and graphics
Escalator step safety stickers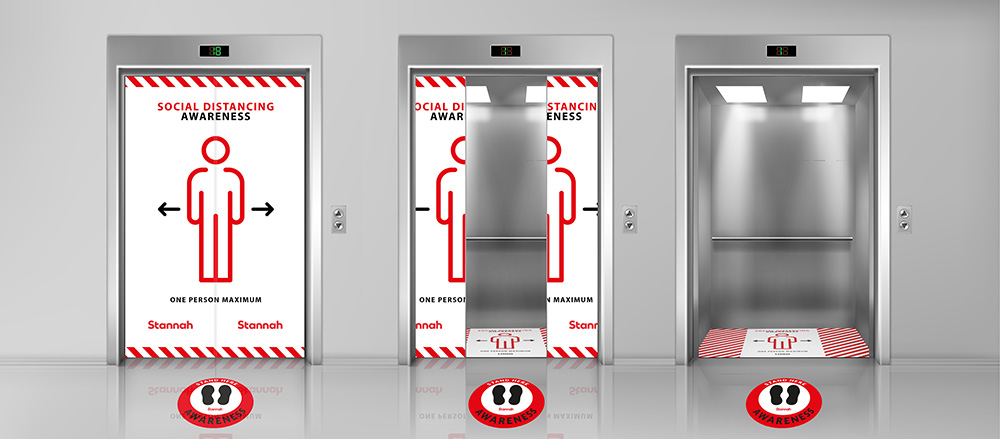 Coronavirus Lift Refurbishments & Installations
For the safety of both you and the engineer, we are following a 'no contact delivery practice' when servicing. When we are working on-site or in premises we will:
Wash or sanitise our hands before entry and after exit, and regularly in between if we are there for an extended period
Wear suitable PPE where necessary
Maintain social distancing rules and keep a distance of 2m from others
Minimise anything that we touch and the amount of time we spend in your home or premises
You will not be asked to sign for arrival and completed work. Instead, the engineer will carry out their works to our agreed COVID-19 Method Statements and once completed they will type your name to acknowledge delivery.
Get in touch – together we can make your lifts safe and build passengers' confidence
Contact Us
Not sure where to start? We can help
Advice and guidance on lift use are changing. Plus, it's a legal obligation to take care of your lift. You need peace of mind that the company undertaking this work has the skills and knowledge to keep your lift in safe working order and up to date. 
Get in touch with your closest Stannah service branch who can evaluate, advise and book the solution that best fits your needs. 
We ensure all our customers are up to speed with the last guidelines and continue to provide technical advice throughout the COVID pandemic. You can read more on our news and blog pages.
150 years of expertise, at your service
Stannah prides itself on having over 150 years of experience and expertise within the lift industry, whilst still remaining flexible. This approach has enabled us to adapt, putting in place measures for safe lift use and helping to make buildings a safe environment for everyone. 
Our network of service engineers is out in the field, keeping the nation moving wherever and whenever required. Working to the latest World Health Organisation, Public Health England and Government guidance, we've extensive measures in place to protect customers and our staff to minimize the risk of transmitting COVID.
Why choose Stannah?
With guidance and lockdown restrictions changing we've adapted to the latest guidelines, ensuring our customers always receive excellent lift maintenance services
With 360 engineers, our nationwide service branches enable us to provide dedicated local service wherever you are in the UK
We cover all aspects of maintenance and repair – on all makes and models
The health & safety of our customers and staff is always our number one priority
We're big enough to cope, yet small enough to care.