Local homelift maintenance and stairlift repair services, 24 hours a day, 365 days a year
At Stannah, we understand the importance for any home lift owner to enjoy the freedom of moving around in their own home stress-free. We want to make sure that your stairlift or home lift equipment is kept in perfect working order at all times – giving you peace of mind.
If, in the unlikely event there is a problem with your stairlift, our stairlift repair service is just a phone call away. We can also help you with ongoing maintenance through our range of service contracts that best fits your needs.
Local skilled stairlift engineers in your area
We have 11 local branches across the UK that offer a full range of lift services to meet all of your needs – 24/7, 365 days a year. Each of our stairlift engineers is locally placed and on standby to attend emergency break downs and call outs no matter where you are. With spare part stock kept locally on a wide range of stairlift models, we can react quickly when problems occur. 
Reliable repairs and maintenance service starts with experience
We have been a part of the lift industry for over 150 years. Our stairlift engineers are fully qualified and have years of experience maintaining, repairing and servicing stairlifts. With more than 92,000 lifts on our service portfolio – you can rest assured that you are in safe hands.
As well as helping homeowners, we also help Local Authorities, providing stairlift maintenance to portfolios across their constituency.  
Whatever the model or manufacturer of your home lift or stairlift, our tailored annual service contracts, extended warranties, repair packages and supporting lift services will ensure reliable, fault-free operation.
Rely on Stannah for local lift services:
Stairlift Troubleshooting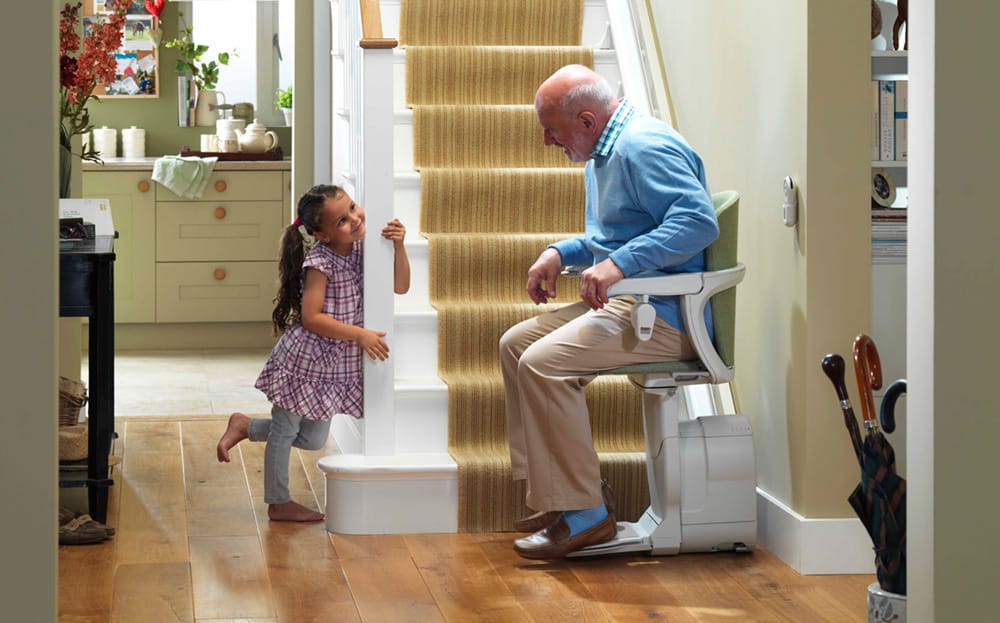 Whilst we try to make sure every stairlift is in tip-top condition, there are factors such as time and wear that can sometimes result in issues arising. Here we've compiled a few of the more common problems you may encounter, as well as how to solve them. If you can't find what you're looking for, then contact your local service branch who will be able to assist further, or arrange for an engineer to visit if necessary.
Why won't my stairlift move?
If your stairlift isn't moving, firstly check it is receiving power: double-check the on/off switch and the master power switch, then turn the key from the off to the on position. Next, check that the chair is swivelled fully to its travelling position and ensure there is nothing obstructing the safety edges. If none of this works, you should contact a Stannah service engineer, who can help you further.
How do I stop my stairlift from beeping?
Your stairlift will often beep if the batteries are not charging correctly. If this happens, first double-check that the wall connection is switched on and the cable is fully connected. If this is the case, check that the lift is parked correctly at either the top or bottom of the stairs as the battery will not charge if the chair is parked incorrectly. If the stairlift continues to beep, contact your Stannah service branch and an engineer will be able to help you further.
Why isn't my stairlift remote control working?
The most common cause of a remote control not working is due to dead batteries. Once the batteries have been removed and replaced, your remote control should start working again. If this does not fix the issue, contact your local service branch who can arrange for a replacement.
My automatic swivel doesn't work
If your automatic swivel stops working, you will need to contact your local Stannah service branch for a repair. Until fully repaired, you can locate the manual swivel levers under the seat.
How do you reset a stairlift? 
To reset a stairlift, simply turn the power off for 30 seconds, then turn the power back on again.
Why is my stairlift stopping short of stairs?
If a stairlift is stopping before it has reached the top of the stairs, there may be an issue with the rail it runs along. Firstly, check that there are no obstructions present and remove any objects or blockages that may be causing your stairlift to stop. Secondly, check that the rail is clean, dry and not over-lubricated. If this doesn't fix the issue, contact your local service branch who will be able to help further.
Why is my stairlift running slowly?
Slow running is commonly caused by issues with the stairlift battery. Firstly, ensure that the power is turned on at the wall and the chair is in the correctly parked (to allow the battery to charge correctly). If the problem persists, contact your local service branch who can help troubleshoot the issue further, and replace the battery if needed.
Why is my stairlift noisy?
If your stairlift has started making more noise than usual whilst running, you will need to get it looked at by a service engineer. There may be issues with the internal elements, such as the motor which may need repairing or replacing, contact your local service branch who will be able to help further.
Top tips
If you are home alone, we always recommend that you carry a mobile phone so can alert others if you need help.
Keep your local branch or supplier number handy or saved in your phone for emergencies.
It's always a good idea to ask someone else to be around to help you troubleshoot.
If your stairlift stops on the stairs, it's best to stay seated and see if you can restart it or summon assistance. If you do have to get off make sure you can do so safely, take it slowly and ideally have someone to help you.
Get in touch about your stairlift or homelift servicing
Contact Us
FAQs on stairlift maintenance
We've covered some of the most popular questions and stairlift problems below. If you can't find the answer you are looking for here, then contact your local service branch who will be able to assist, or arrange for an engineer to visit if necessary.