Goods-only lifts that make easy work of heavy loads
Our wide-range of Goodsmaster goods only lifts move stock in warehouses and factories, function as bike/bin lifts in offices, or help back of house in retail stores, hotels, pubs, restaurants and leisure venues across the UK. Flexible and robust, you can rely on a Stannah goods lift for the safe movement of stock between floors. 
These goods only lifts are designed and manufactured to carry up to 2000kg and are supplied with a self-contained steel structure. When you need to move heavy loads between two or more floors, our range of Goodsmaster goods lifts and Goodsmaster Plus goods attended lifts come in handy. 
The Goodsmaster is a safe and efficient solution, with interlocked gates to prevent movement of goods during travel, bump rails and even a ramp option when a pit is not possible. Using the lift is easy, with call and send control, emergency stop switches and optional intercom system at each landing entrance for easy communication between staff sending and receiving goods. 
Whether your requirements include low pit or low headroom, single entry or through car entrance configuration, hinged or collapsible concertina gates, this versatile range means you can find the perfect lift to fit your needs. Installation is completed within a matter of days – subject to builders' work and these heavy-duty lifts can be fitted anywhere in your building, including as a mezzanine goods lift. 
If safe and reliable material handling and keeping your shelves stocked is vital for your business, then trust in our lifting equipment. Our reliable work-horse is a cost-effective solution that will handle your loads for years to come.
We can also supply bespoke lifts with a larger capacity – simply contact us to discuss your exact requirements.
Our Goodsmaster range at a glance
Model
Load

Travel

Headroom
Speed of travel
Choice of sizes
Lift controls
Configurations
Power supply
Goodsmaster SD Classic
Up to 2000kg
15m
3.2m
Up to 0.15m/s
Extensive options available — contact us for details
Fully automatic call and send controls at each landing entrance
Up to two entrances on each floor; single or through-car
415V three-phase
Goodsmaster CD 
9m
2.7m
Looking for a bigger goods lift?
No problem. We've can provide goods lifts of 3000kg or more. The first step is to get in touch with our technical team to discuss your requirements in greater detail.

Features and benefits
Flexible design
With low pit and headroom requirements, the range is ideal for moving goods between floors or to elevated storage areas on mezzanine levels.
Reducing manual handling hazards
Installing a Stannah Goodmaster will reduce the risk of injury that comes with manual handling. Whether in a supermarket, warehouse, department store or pub, you can rely on our products for the safe travel of your heavy goods.
Quick and easy install
The Goodsmaster is supplied in a structure supported frame making the installation quick and easy. Our engineers will install your lift as rapidly as possible and with minimum disruptions to your premises.
Support every step of the way
From start to finish our dedicated team will be beside you. Once in service, your Goodsmaster can be maintained in tip-top condition day in, day out, by our dedicated service engineers.
Design & Planning
All technical information and NBS specifications are available to download
Consultation with our design team on planning and specification
Free site visit to survey your building and find the perfect lift for you
Upon request, our sales and technical team can provide you with quotes and estimates over the phone
Not sure what you're looking for? Speak to our expert technical support team who will be happy to talk you through the options
Installation
Our dedicated team will manage the lift installation from delivery to handover
Our engineers will install your Goodsmaster with minimal disruption to your premises, working to hours that suit you
Typically installation time 8-10 days for a two stop lift
Once the installation is completed, we test, commission and CE mark your lift
Complies fully with the Essential Safety Requirements (ESRs) of The Machinery Directive 2006/42/EC
Maintenance
Twelve-month warranty & servicing included as standard
Our preventive maintenance solutions ensure safe, continuous operation, with options for 24/7, 365 days a year cover when the lift is in constant use
Local maintenance service right across the UK, so an engineer is never far away
Supply of genuine spare parts to prolong your lift's life
One service provider – able to manage your platform lift, passenger lift, escalator & moving walkway portfolio – whatever the make or model
Want to know more about how we can help you?
Contact Us
Planning tools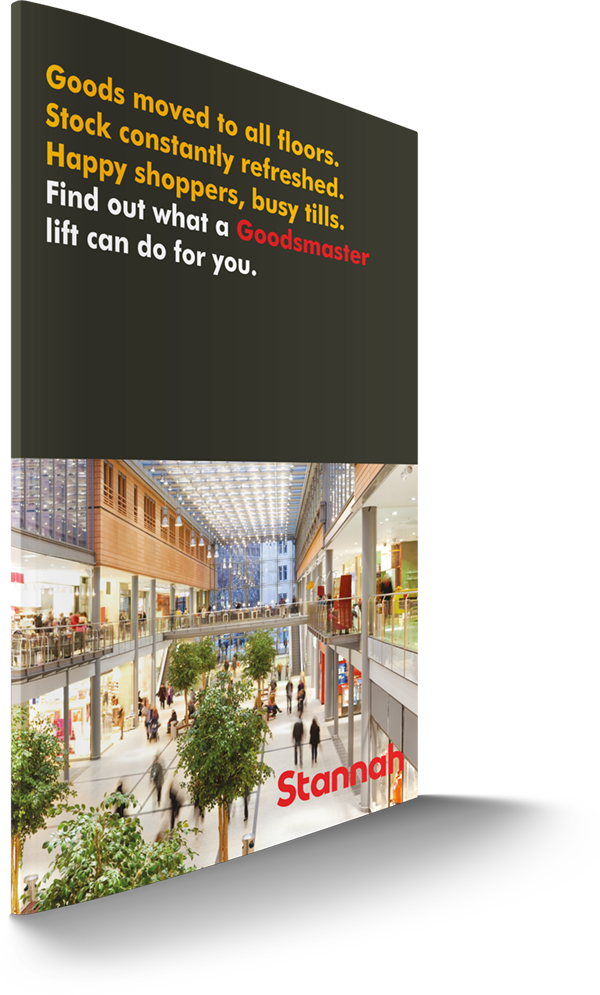 Download the product brochure for our Goodsmaster SD lifts
Download Now
Download the product brochure for our Goodsmaster CD lifts
Download Now