Providing easy access over a small change of level of up to 2 metres.
Our product range of short-rise lifts, also known as step lifts, are ideal for any public building. For indoor and outdoor use, our variety of small step lifts improve public access to all areas for disabled people, the elderly and parents with pushchairs.
Over 10,000 Stannah platform lifts are installed across the UK in schools, colleges, shops, bars, restaurants and museums. Wherever there is a requirement for easy access over a small change of level, our high-quality low rise platform lift can accommodate all your requirements.
Our small step platform lifts are designed to be neat and compact, meaning the installation time can take as little as one to two days, with minimal building work required. Our Lowriser range is both an indoor and outdoor steplift and is equipped with features such as: easy to use constant pressure controls, emergency stop button and emergency manual lowering. Every one of our short rise lifts feels safe and secure to operate.
With a vast choice of standard lift configurations and bespoke options; whether you are looking for a cost-effective access solution or something out of the ordinary, we can make your vision come to life. 
Contact us to see how we can help you with your requirements. We will support you every step of the way, from design to installation and throughout the lift's lifetime – you can rely on Stannah.
Our Lowriser range at a glance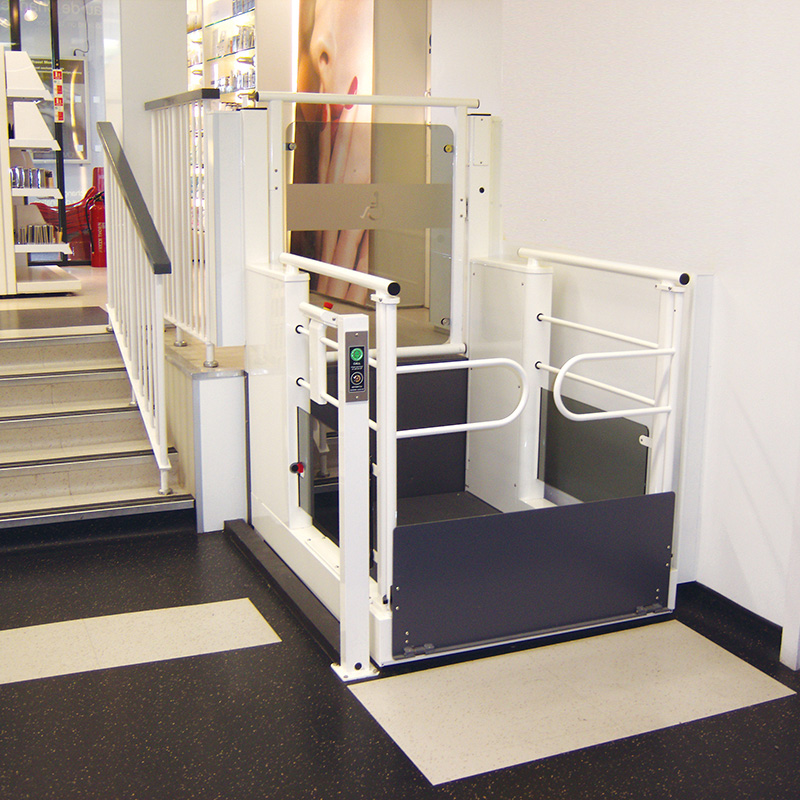 Lowriser
Intended for travel of up to 1m, embedded with an integral folding ramp and under platform bellows for safety and to guard against litter.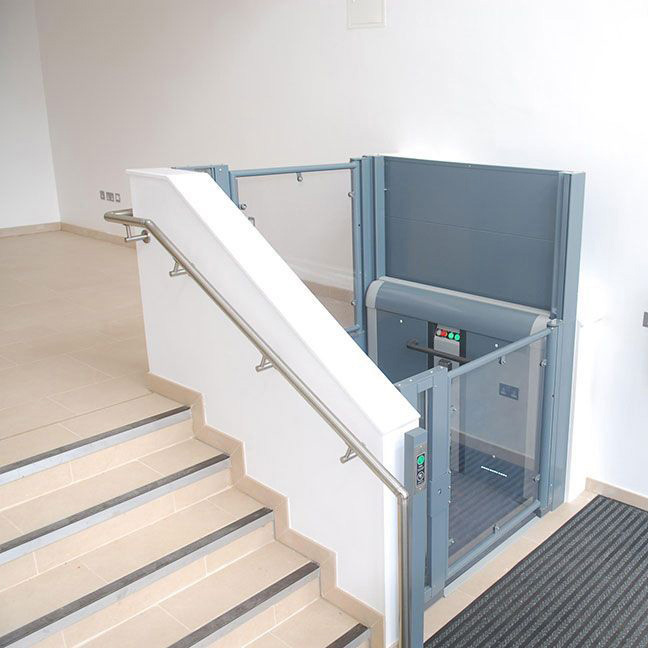 Lowriser 2
Fully enclosed, our solid and small platform lift is ideal for distances of up to 2m and includes integrated shallow ramp for easy access.
Model*
Car Entrances 
Load
Drive
System
Speed of
Travel

Max.
Travel

Power Supply
Lift
Controls
Finishes
Lowriser
Through
300kg (wheelchair and user combined)
Scissor mechanism
0.02m/s
1m
230v single-phase
Constant pressure
White as standard (RAL 9002)
Lowriser 2
Through / adjacent
Hydraulic
0.08m/s
2m
* Both models can be installed indoors and outdoors.
 
Looking for something outside of the standard range?
We appreciate that when it comes to your unique project, you might be looking for something different. Our bespoke step lifts are a luxurious, high-end product, with finishes and styles custom-tailored, please get in contact with our team to find out more.

Features and benefits
Flexible Design
With 3 sizes in each model, a wide range of finishes and anti-slip floor coating on platform and ramp, the Lowriser is the perfect solution for vertical travel needs of up to 2m.
Excellent Safety Features
Our Lowriser range comes with full platform safety edges, overload protection and emergency lowering. The automatic lift stopping at the landings and intuitive controls ensures the lift is easy to use.
Complies to Standards
Complies with the Equality Act 2010, Part M of the Building Regulations, Section 4.2 of the Technical Handbook and BS8300:2018.
All of our Lowrisers are UKCA marked and comply with BS6440:2011.
Support every step of the way
From start to finish our dedicated team will be beside you. Once in service, your Lowriser can be maintained in tip-top condition day in, day out, by our dedicated engineers.
Design & Planning
All technical information and NBS specifications on our standard range are available to download
Attractive range of standard finishes, plus bespoke options to match your building
Free consultation with our design team on planning and specification
Free site visit to help you find the perfect lift
Our technical sales team will be happy to talk you through the options and can provide you with free, no-obligation estimates
Installation
Our dedicated team will manage the installation of your chosen Lowriser from delivery to handover
Our engineers will install your Lowriser with minimal disruption to your premises, working to hours that suit you
Typical installation time for a Lowriser is 1 day and 1-2 days for the Lowriser 2 model
Once the installation is completed, we test, commission and UKCA mark your lift
Planned Maintenance
5-year anti-corrosion warranty and 1-year standard warranty & servicing included as standard
Local lift maintenance across the UK – with regular servicing to ensure safe, continuous operation (incl. 24/7, 365 days a year if required)
Supply of genuine spare parts to prolong your lift's life
One service provider – able to manage your complete lift portfolio – whatever the make or model
Want to know more about how we can help you?
Contact Us
Planning tools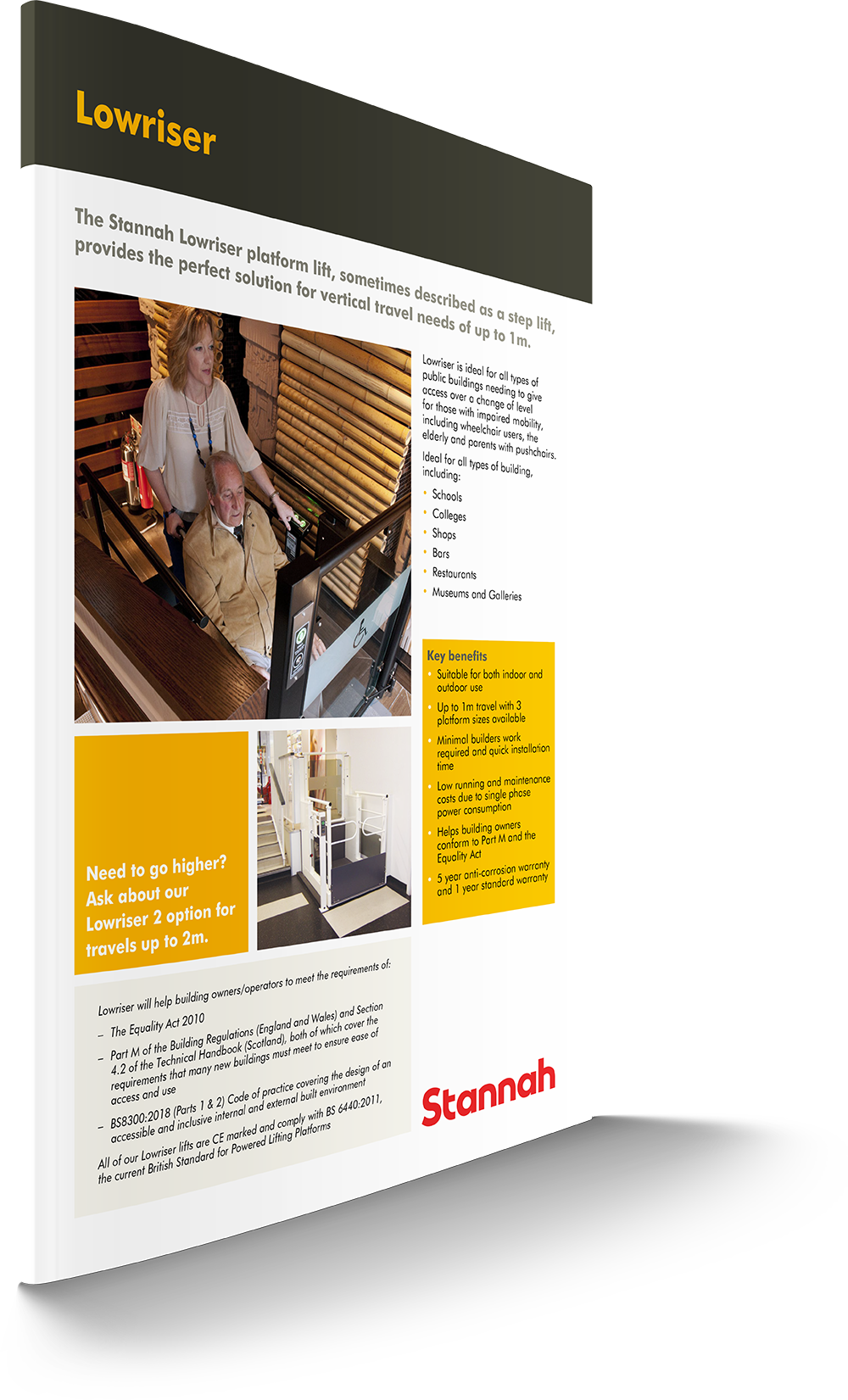 Download the brochure for the Lowriser step lift
Download Now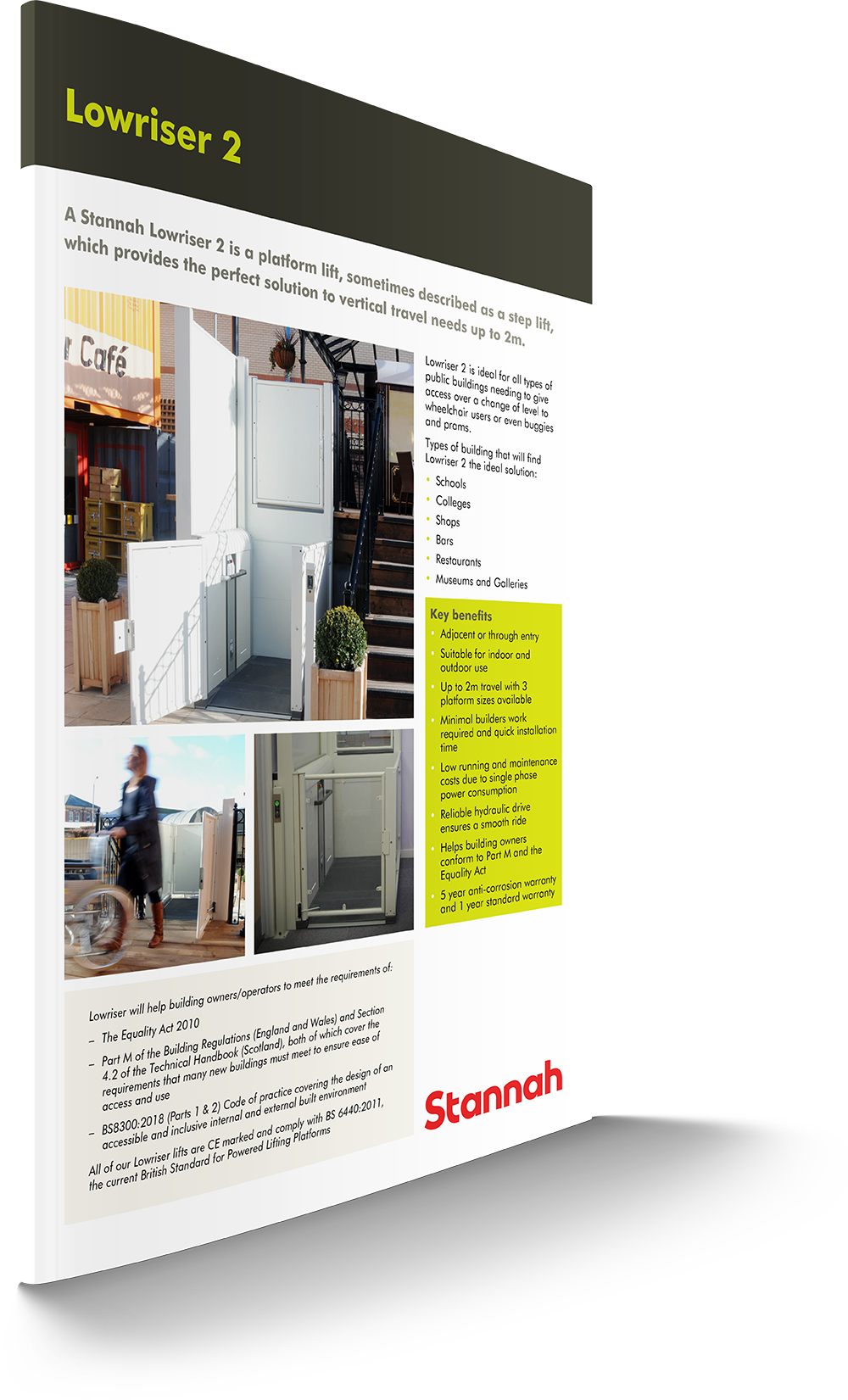 Download the brochure for our Lowriser 2 step lift
Download Now