Stannah ST Moving Walkways – our travelator range
As a leading lift and escalator company, we provide travelator solutions for commercial, industrial and public transport applications across the UK.
Do you have a requirement for a horizontal moving walkway to enhance the flow of human traffic in public transportation environments? Or an inclined travelator, most often used for retail and railway stations? Suitable for standing or walking, our range can provide you with the ideal product for busy built environments.
It doesn't matter whether you opt for a standard configuration or a tailor-made solution. Our travelators are the perfect combination of finishes to complement surroundings, exceptional efficiency, flexibility and reliability. Typically installed in pairs, they will provide you with a smooth, uninterrupted flow of people throughout your building.
Our flexible product range suits all. It includes heavy-duty and glass moving walkways, inclined and horizontal angles and suitable for internal and external use. Whichever type you choose, each comes with a wide range of finishes. So we're sure we've got the perfect travelator design for your project.
All our moving walkways are manufactured to the highest standards, delivering on safety, eco-efficiency and design. Talk to our dedicated design team who can give advice, provide indicative moving walkway prices or guide you through specification.
Our range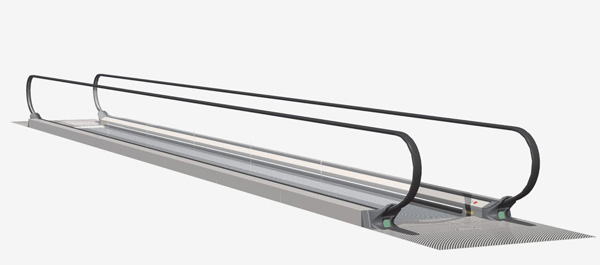 STH
Horizontal moving walkway
STA
Inclined moving walkway
Segment
Rise (m)
Length (m)
Speed (m/s)
Inclination
Capacity (persons/hour)
Step with (mm)
Power supply
Environment
STH
Infrastructure
-
1340 max
0.5, 0.75
0°
6750-9000
800, 1000,
AC 3-phase, 50Hz or 60Hz
Indoor/Semi-Outdoor/Outdoor
STA
Retail, infrastructure
1.5-10.4
Dependent
on rise
10° - 12°
9000
800, 1000, 1200, 1400
Looking for something outside of the standard range?
Well, we can do that too. We get involved in a variety of bespoke and major projects, where required taking on the role of principle contractor, simply get in touch with our technical team.
Contact our team
Features and benefits
Exceptional performance
Designed & manufactured to minimise friction, vibration and noise our travelators only offer a new level of riding comfort. Plus advanced control systems ensure minimal product wear and tear - meaning low maintenance requirements.
Energy efficiency
Each moving walk comes equipped with a smooth efficient worm drive gear, optional long-lasting LED lighting and smart operational modes to optimise energy consumption under different load conditions. So you get both BREEAM points and low life-cycle costs.
Safety & Standards
Every moving walkway installation is fully compliant with the latest British standards (including BS5656 and BS115) and is equipped with the latest passenger safety features.
Support every step of the way
From start to finish our dedicated team will be beside you. We supply, install and provide moving walkway servicing so you can relax in the knowledge that your newly installed product will be kept in tip-top condition by our dedicated engineers.​
Design & Planning
Moving walkway dimensions and NBS specifications available through easy download
Consultation with our design team to ensure your walkways are the perfect fit for your building
Knowledgeable sales & estimating team to advise of typical travelator costs
Energy consumption, specifications and moving walkway CAD dimensions for preliminary planning are available from our technical team
Installation
Dedicated engineering team to project manage the installation of your auto walk equipment, from delivery to handover
Working around your operations, we install in hours that suit you, with consideration for all involved
Proven, efficient and safe installation methods and full quality assurance at handover
Operation
Twelve-month warranty and servicing included as standard
Preventive maintenance solutions to ensure safe, continuous operation
Local maintenance service 24/7, right across the UK, so an engineer is never far away
Moving walkway replacement, refurbishment and modernisation services for the life-cycle of your product
One service provider, able to manage your complete portfolio – whatever the type, make or model