The UK's best-selling range of service lifts
Often referred to as kitchen lifts, these little service lifts are ideal for a range of uses. From food lifts in catering, pubs and restaurants to dumbwaiters in offices and private homes, they're an invaluable necessity right across the UK. 
The Stannah Microlift comes in a wide range of dumbwaiter sizes including four 50kg & 100kg structure supported models, offering a choice of car sizes off the shelf. If you're not sure of the best option for your building, we can arrange a free site survey to discuss your requirements.
As market leaders, we've been installing service lifts for more than 50 years, combined with our comprehensive dumbwaiter product range, ensures that you receive the best advice and the perfect product, within your budget and with that special Stannah ingredient – personal service.
A lifetime of product support is available to you locally via our national network of lift service engineers and UK spares. Simply put, we aim to make your life easier with a seamless service from order to installation and beyond.
Contained within a load-bearing lift shaft, the product is fitted with rise and fall shutters car entrance protection and come in grey baked enamel RAL7038 (or stainless) finish. The high-quality reduction gearbox and balance drive system ensures low electrical consumption and a high-quality smooth operation even after years of use. Plus, all our dumb waiters meet the essential safety requirements (ESRs) and machinery safety regulations.
From the smallest document or bottle of wine to a heavy trolley or beer barrel, a Microlift makes life easier in homes and workplaces alike.
Our Microlift range at a glance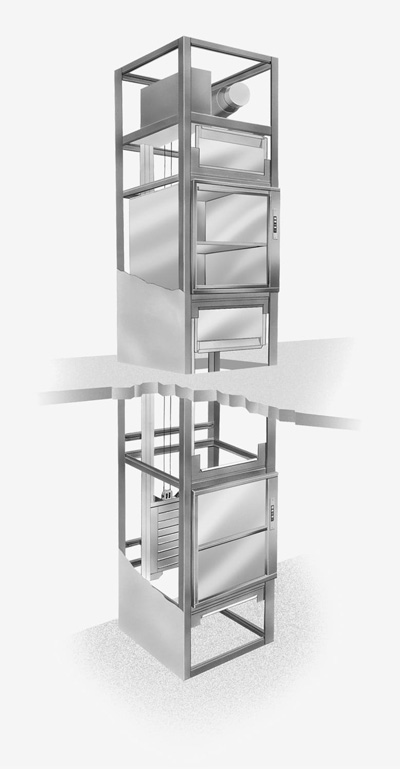 Standard
The popular choice for waist-height loading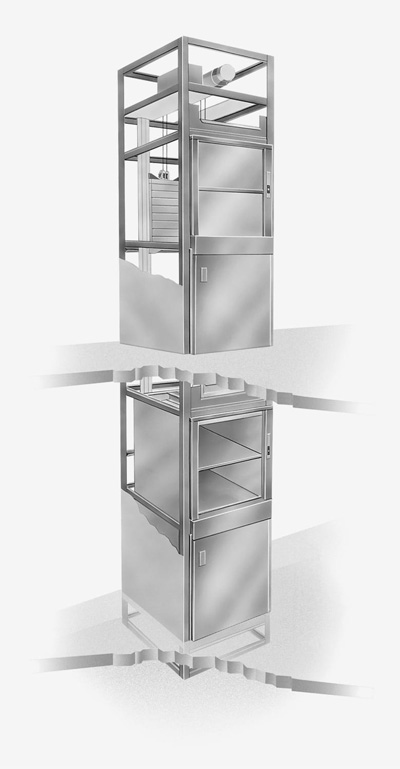 Double-decker
Two lift cars in one structure, eliminating cross-contamination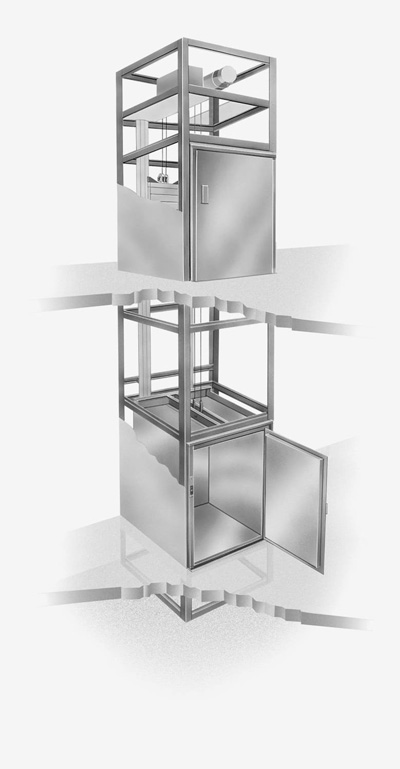 Floor-level loading
Floor level service for small trolleys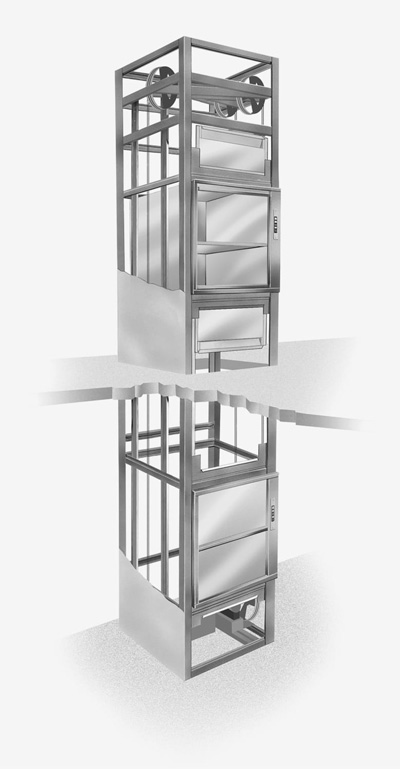 Bottom drive
For low headroom applications
Model (50 & 100kg)
Door types
Speed (m/s)
Travel
Headroom (mm)
Pit depth (mm)
Power supply
Car entrances
Standard
Shutter / Hinged
0.35
12 stops / 30m
2600-3000
N/A
415V three-phase**
Single / Through /Adjacent
Double-decker
Shutter / Hinged
3000
350*
Floor level loading
Hinged
1800-2200
Bottom drive
Shutter / Hinged
2250
N/A
* Pit depth can be reduced on certain models, please contact us for details.
** Single-phase power supply is possible but lifts using this cannot be upgraded in terms their capacity.
***Low headroom options are available upon request. 
Features and benefits
Reliable performance
We've supplied and installed over 20,000 Microlifts in the last 50 years, with many of the first still working today. So we can guarantee our customers a reliable and hardwearing product, supported by regular service visits from expert local engineers.
Reducing manual handling hazards
Installing a Stannah Microlift will reduce the risk of injury that comes with manual handling. Whether you are a restaurateur or homeowner, injuries caused by unnecessary manual handling will ultimately cost you money and/or staff.
Quick and easy install
Our Microlifts are structure-supported, quick and easy to install, whilst causing minimal disruption. Dumbwaiter installation takes just one to two days on a two-floor lift and our engineers will return for a second visit, which will include the testing, commissioning of the lift and training in its safe operation.
Support every step of the way
With over 150 years of experience, Stannah is one of the UK's leading dumbwaiter companies. From start to finish our dedicated team will be beside you. Once in service, your Microlift can be maintained in tip-top condition day in, day out, by our local service engineers.
Design & Planning
Dumbwaiter technical data and NBS specifications are easily downloaded from our technical area
Speak to our dumbwaiter design team to ensure the perfect product specification and typical costs
Free site survey to ensure your Microlift is the right fit for your building
Whatever your requirement, our expert technical support team will be on hand to guide you through the process
Installation
Our dedicated team will manage the installation of your dumbwaiter, from delivery to handover
Our engineers will install your Microlift with minimal disruption to your premises, working in hours that suit you
Installation takes just 1-2 days for a two-floor lift, using proven, efficient and safe installation methods
Returning after completion of builders work to hand over the lift ready for use
Operation
Twelve-month warranty & servicing included as standard
Local maintenance service right across the UK, so an engineer is never far away
Our preventive maintenance solutions ensure safe, continuous operation, with options for 24/7, 365 days a year cover when the lift is in constant use
As a leading dumbwaiter manufacturer and supplier, we have excellent UK spare parts availability to keep your workhorse running