Case Study: Stannah Future-proofs New Homes in the Garden of England
IMPERIAL GREEN
An award-winning haven of new homes in Hythe, Kent
Stannah Lifts has supplied and installed (and will maintain) 38 lift products in Imperial Green, a high-specification development of 75, two-, three- and four-bedroom townhouses and apartments in Hythe, a peaceful, coastal market town on the fringe of Romney Marsh.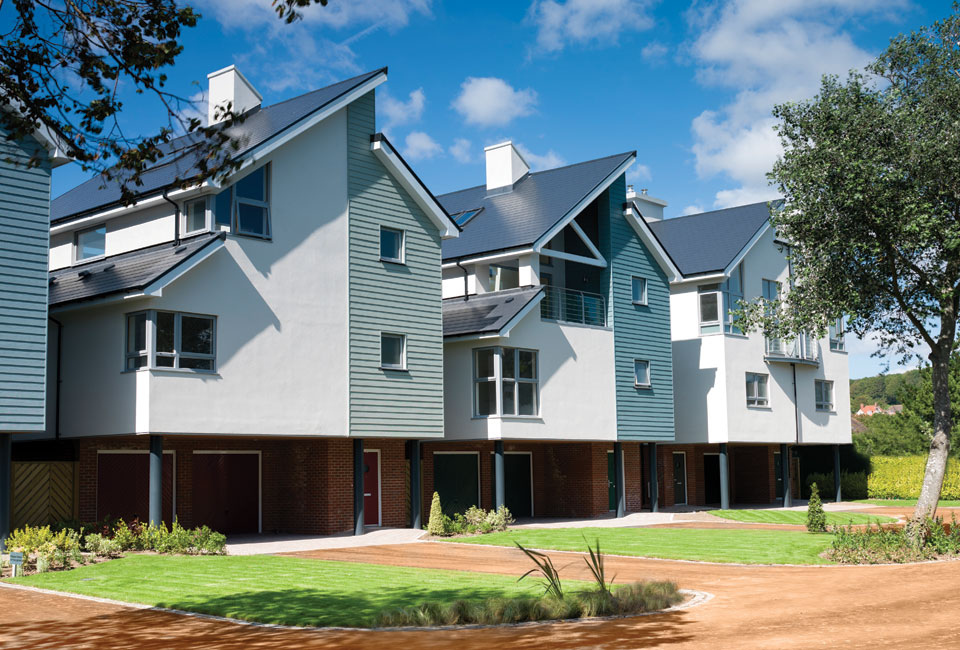 Street scene at Imperial Green.
Location: Imperial Green nestles in the landscaped grounds of The Hythe Imperial Hotel, a recently rejuvenated, 19th-century edifice on Princes Parade, overlooking the English Channel.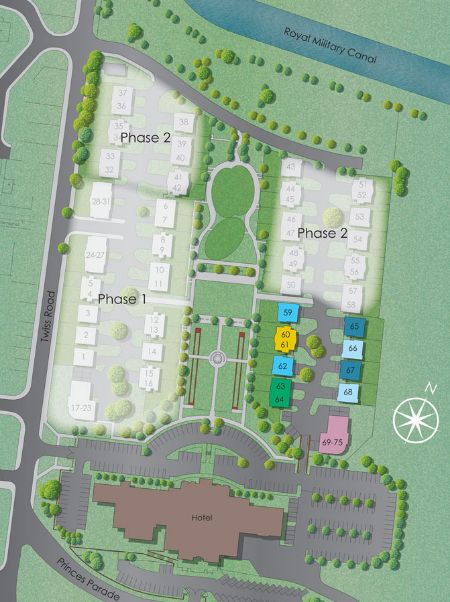 Total cost: £4.2 million
Project duration: 2 years
Award winner
Imperial Green won the prestigious NHBC 2016 accolade, with Phase I shortlisted for the Kent Design Awards 2012.

Working in partnership
Stannah Lifts worked in conjunction with GSE Developments, Imperial Green Developments, Jenner Contractors, and GDM Architects, to bring the project to a successful conclusion, on time and budget.
Setting the scene
Imperial Green is a three-phased development that took two years to complete, with Stannah lift products being supplied and installed throughout each phase. 
More than a collection of townhouses and apartments, the development offers a whole new way of life, including access to a nine-hole golf course, spa, gym and fitness centre, and views across the English Channel.
Prices range from £425K for a three-bed apartment to £1,250,000K for a three-bed penthouse.
Project overview
To facilitate luxurious living, and, where applicable, to enable homeowners to stay in their homes for as long as possible, a total of 38 Stannah lift products were supplied and installed: a traction passenger lift,11 hydraulic platform passenger lifts (home lifts) and 26 dumbwaiters (service lifts). This future-proofing capability helped to secure the contract for Stannah.
Geoff Crouch, Surveying Director of Jenner Construction, comments:
"We have used Stannah lift products on many occasions and had no qualms in using them again for Imperial Green. They had the product range required and their tender was highly competitive, especially with regards to the dumbwaiters."
SCOPE OF WORK
Platform lifts in 11 detached houses
Installed in their own structures, these versatile home lifts did not require a pit or a dedicated load-bearing lift shaft, making for swift, straightforward fixing in just a matter of days.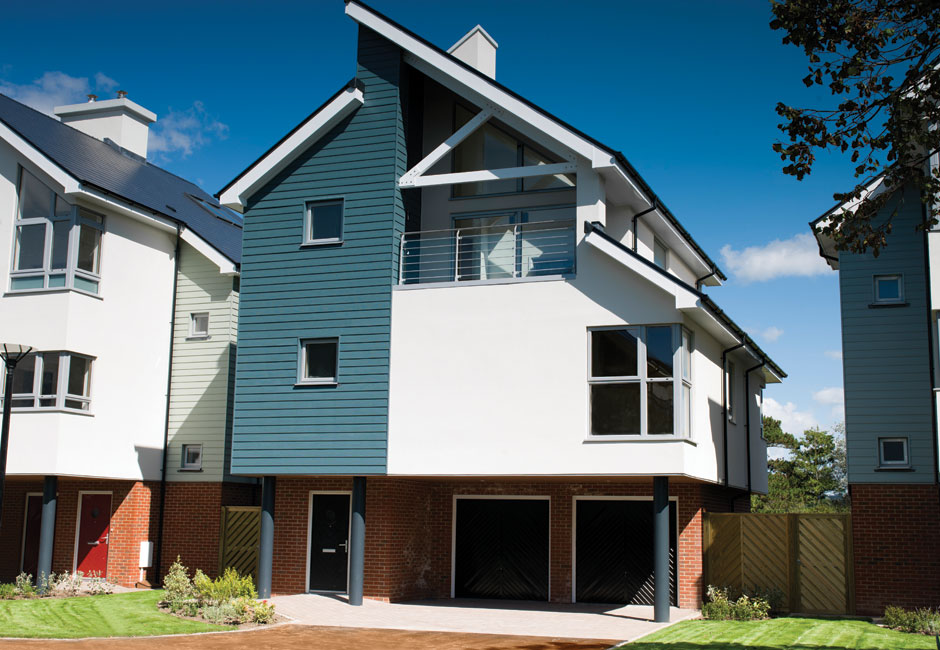 The lifts enjoy an operation and design specification sympathetic to their contemporary surroundings:
•    Safe, easy access to three floors (580mm) 
•    Smooth, reassuring ride at .150m/s
•    Roomy platform size (950mm x 1250mm): easy access for people of all mobilities, including wheelchair-users
•    Manually operated: large, simply marked, illuminated pushbuttons are easy to use for all ages 
•    Angled operation panel and grab rail
•    Ceiling light and timer in the lift structure: well-lit travel with lighting that automatically cuts out after use
•    In-car telephone: a reassuring feature should the occupant need assistance
•    Grey safety flooring with contrasting white structure
•    Light-oak door with clear glass viewing panel: mirrors the interior doors and allows natural light to enter the lift car
Dumbwaiters in 26 semi-detached properties
A fleet of Stannah 50kg service lifts delivers imperial household management, whizzing smaller household goods and shopping between floors, silently and effortlessly. They do exactly as they are told – and don't answer back!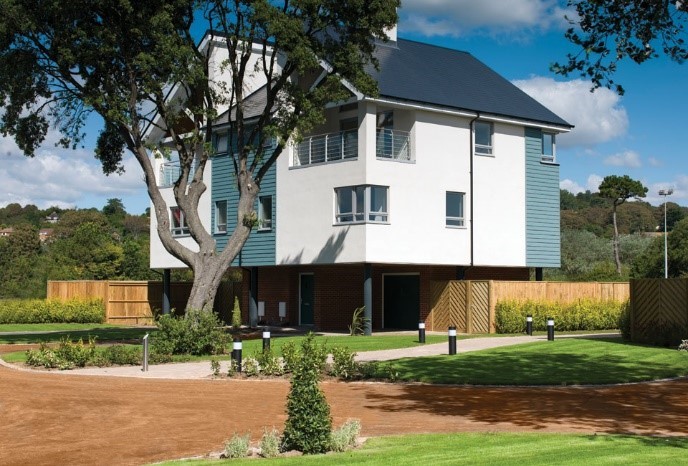 Finished in satin stainless steel with easy-clean, grey baked-enamel interiors, these not-so-dumbwaiters mind their own business behind light-oak doors until needed. At the touch of a button they spring into action, offering their interior shelving as an extra pair of arms. Another push of a button and they disappear, to reappear moments later at the required destination, with their loads safely stashed behind secure rise-and-fall shutters.
These dinky, dynamic helpers were supplied in their own structure-supported enclosure, so took just one to two days to install. Not a luxury but more of a modern-living necessity, Stannah service lifts are not known as Europe's best-selling range for nothing.
Passenger lift in Wisley House apartments
A Stannah 630kg MRL (motor room-less) passenger lift delivers access for up to eight people per journey in Wisley House, one of two five-floor complexes comprising seven properties each of one- and two-bedroom apartments and two-bedroom duplexes.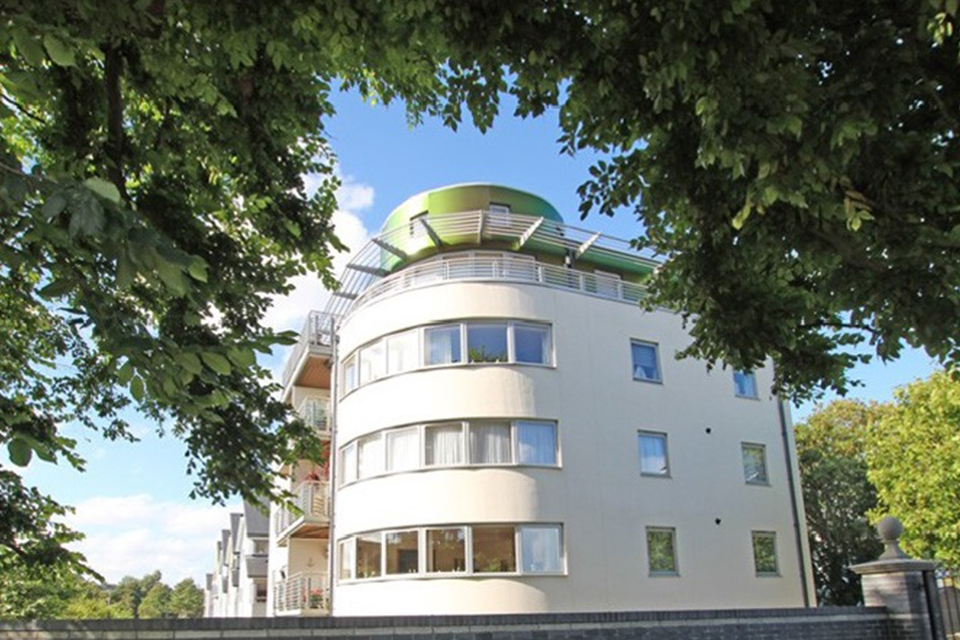 Ideal for this impressive building, this workhorse conceals its muscle behind a chic façade:
•    Traction drive: gearless and energy efficient for low-cost use
•    Travel: 11538mm
•    Speed: 1.0m/s
•    Motor room-less (MRL): lift workings are housed in a space-saving cabinet located remotely from the lift
•    Mirror: silver, half-height to rear wall 
•    Interior walls: silver-grey vinyl skin plate 
•    Hand rail: satin stainless steel 
•    Ceiling: illuminated, satin stainless steel, bubble cut-out effect
•    PVC floor: light-wood effect 
A COMPREHENSIVE PACKAGE
Standards compliant
As with all Stannah lift products, every lift in Imperial Green meets all required legislation in design, manufacture and performance. For full information on Acts, Regulations, Directives, Codes of Practice and Standards, read here.
Supporting sustainability
All Stannah lift products are designed and manufactured to be energy efficient and cost-effective to run. In this case, the apartment passenger lift generated two BREEAM credits, which supports the development's policy of sustainable construction

BREEAM is the world's leading sustainability assessment method for masterplanning projects, infrastructure and buildings. It recognises and reflects the value in higher performing assets across the built environment lifecycle, from new construction to in-use and refurbishment.
Maintenance
As with all Stannah installations, the Imperial Green lifts are covered by a full maintenance package as part of the contract, with more frequent monitoring in their debut year:
Passenger lift: six visits
Platform lifts: four visits 
Service lifts: three visits
All lifts will be serviced by the relevant branch of Stannah Lift Services (London and the South East – Dartford for passenger and platform lifts; Orpington for service lifts), part of a nationwide network providing 24-hour, 365-days-a-year support. This covers service, repair, modernisation and refurbishment of all types of lifts, stairlifts, escalators and moving walkways – not only those from the Stannah product range, but also other lift manufacturers' equipment. Stannah also offers a bespoke lifts service, custom building lifts to meet customers' specific requirements.
Backed by over 150 years' experience and expertise 
Stannah is a UK market leader in the design, supply, installation, refurbishment and maintenance of a comprehensive range of passenger, service and platform lifts, escalators and moving walkways.
A final word from Trevor Parker, Surveying Director at GSE Developments:
"Stannah supplied and installed a fleet of lifts from three different ranges over a three-phase timescale. The lifts make life easier and more comfortable for residents of all ages, but older occupants will really appreciate being able to live in their own homes longer than they could without the lifts."