Case Study: A Stannah wheelchair lift supports access in Castle Howard
Only a Stannah Stairiser CR (Curved Rail) wheelchair platform lift could help support the mobility requirements of Castle Howard in North Yorkshire—the stately home of the Howard family for over 300 years.
Matthew Nicholson, Head of Commercial Operations at Castle Howard, explains why:
"The previous lift was supplied by an overseas supplier. Whilst it had served us well it had come to the point where it was unreliable and repair parts had become impossible to source. The lift had been in place for many years and with the high volume of paying visitors (+250,000 annually) it was business-critical that we replaced it."
First for market-leading status, competitive cost and timescale performance
"We approached three main suppliers, including the company who were maintaining the existing lift for us. All of the suppliers had experience in installing stairisers into Grade I-listed buildings. Stannah is recognised as a UK market leader in this area and was the most competitively priced. The schedule of works from point of ordering was also a key issue and Stannah was able to meet our timescales."
First for bespoke capability
"In keeping with English Heritage guidelines, our conservation architect, curator and the Howard family insisted that no further drill holes were made into the historic and protected Grand Staircase. Stannah was very open to this and installed the lift stanchions to the fixing points of its predecessor. Stannah also closely matched the lift colour with the natural stone walls."
PROJECT OVERVIEW
Client: Castle Howard Estate Limited
Architect: Sir John Vanbrugh and Nicholas Hawksmoor
Internal area: 140,000 square feet
Grounds: 3,561 hectares (8,800 acres); a mix of farmland, woodland and parkland
Visitors per annum: 250,000 and growing
RESULT
Installed in just a few days, ahead of time and budget—in time for Christmas 2019…
"Whilst we remained open to the public, Stannah rose to the challenge with aplomb and even worked outside normal business hours to ensure minimal disruption to our visitors. The installation was completed ahead of schedule and was crucial to our Christmas operation—our busiest time of year— where we welcomed over 67,000 visitors to the house."
A 17th-century heritage
Castle Howard is the Grade I-listed ancestral home of the Howard family. Construction began in 1699 and took over 100 years to complete.
Set in sumptuous grounds, the House is accustomed to the limelight when it comes to films and television appearances. These include Kubrick's Barry Lyndon, Waugh's Brideshead Revisited and, most recently, ITV's Victoria.
Part of the Treasure Houses of England, this Baroque/Palladian masterpiece is both the family's private residence and an iconic tourist attraction with over 250,000 visitors per year.
"The installation of the Stannah Stairiser access lift is a vital component in a constant programme of conservation, restoration and maintenance that ensures the House and wider Estate is safeguarded for future generations."
Accessible to All
To cater for visitors of all mobility levels, Castle Howard has a comprehensive accessibility policy. This comprises many elements including car parking, a hearing loop, on-site manual wheelchairs and the Stannah Stairiser CR wheelchair platform lift.
"Accessibility is key to the visitor experience and so the Stannah Stairiser CR has had a huge impact on the enjoyment and ease with which visitors with mobility restriction can experience the wonders of Castle Howard and its collection of art and antiquities.
"Additionally, the lift has taken a great deal of stress away from the staff who welcome the visitors to the House, knowing that they can easily move wheelchair users and mobility restricted guests up to the principal floor of the house."
About the Stannah Stairiser CR
Centre stage when it comes to its role—but appropriately discreet in its presence—this disabled lift takes visitors up the Grand Staircase to the main floor of the House and to most of the rooms.
One of the slimmest wheelchair platform lifts on the market, it provides discreet, efficient movement for mobility compromised people, either one person in a wheelchair or a person seated on the lift seat provided.
The curved rail allows this access lift to navigate the staircase that rises in two stages, with a linking level that lends a natural grace to the incline and where visitors can stop to admire the family portraits lining the walls.
When not in use, the folding platform and barrier arm ensure that the lift compacts away neatly and leaves the stairway free for pedestrian use.
Safe to use
Built-in safety features mean it's impossible to operate the lift until the barrier arms and ramps are folded in place.
Easy to operate
Easy-to-use constant-pressure controls allow the lift-users to operate it independently.
The lift stops automatically at the upper and lower landings and the intuitive controls allow the user to stop the lift at any time.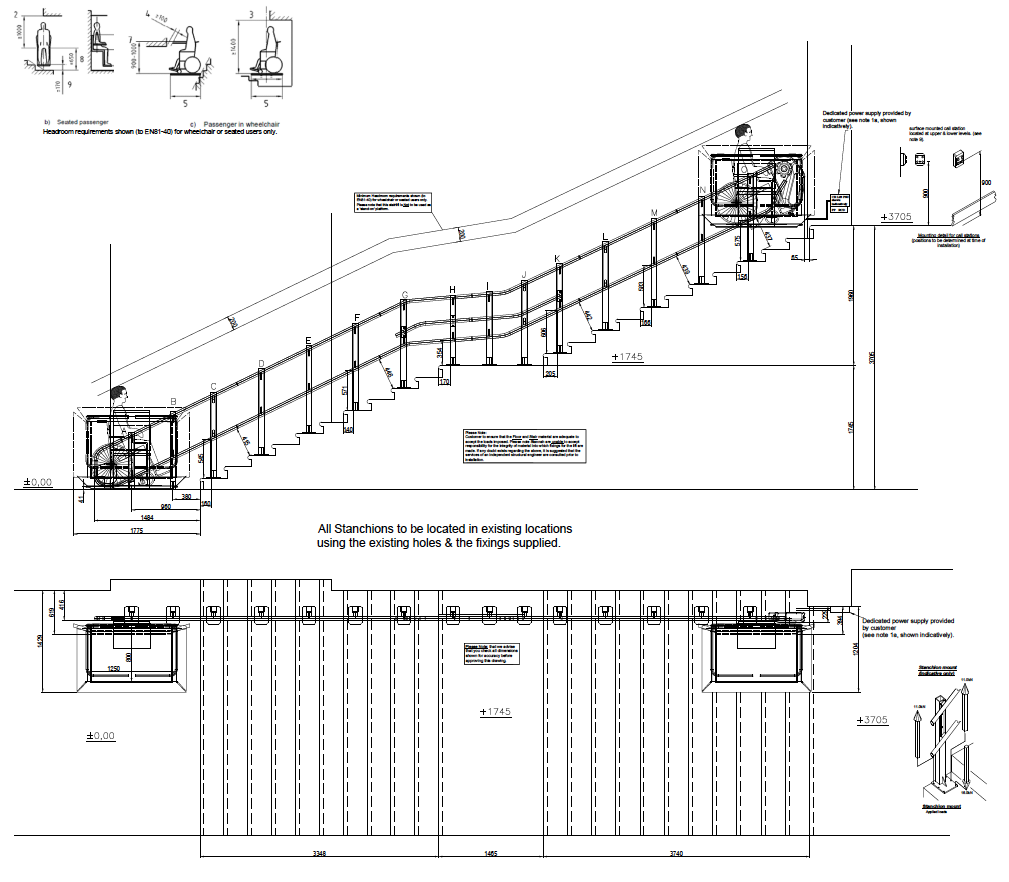 Ideal for retrofitting
The Stannah Stairiser CR is ideal for retrofitting in existing buildings as its installation has minimal impact on the existing infrastructure.
The Castle Howard Stairiser CR configuration
Travel: 11000 mm
Mounting: Stanchion mounted
Handing: Left
Number of support stanchions: 15
Platform size: 800mm x 1250mm
Motor selection: Cabinet 3PH (0.75—1.1kw)—k1
Side access ramp: Yes
Fold-down seat: Yes
Standard load: 225kg wheelchair user + user
Colour: RAL1001
"Stannah was professional to work with from initial enquiry through to numerous site visits, technical surveys and, most importantly, during the installation.
"I would have no hesitation in recommending Stannah Lifts."
Suitable for indoor and outdoor use, the lift can be wall-mounted or stanchion floor-mounted to existing bolt holes, or a combination of both.
A choice of fixing methods, parking options and drive layouts make it ideal for restrictive landing spaces and building limitations.
Fast installation
Installation takes 1-2 days for the Stairiser SR (straight rail) and 3-5 days for the Stairiser CR range.
A COMPREHENSIVE PACKAGE
Standards compliant
As with all Stannah lift products, the Stairiser CR complies with the Equality Act 2010, EN81-40 Safety rules for the construction and installation of lifts and with the latest Machinery Directive 2006/42/EC.
Supporting sustainability
All Stannah lift products are designed and manufactured to be energy efficient and cost-effective to run.
Lift maintenance
All Stannah installations and refurbishments are covered by a maintenance contract. In this case, the Stairiser CR benefits from four service visits a year by the North and North East branch of Stannah Lift Services.
Stannah offers service, repair, modernisation and refurbishment of all types of lifts, stairlifts, escalators and moving walkways—not only those from the Stannah product range but also other lift manufacturers' equipment.
Stannah also offers a bespoke lifts service, custom building lifts to meet customers' specific requirements.
Backed by over 150 years' experience and expertise
Stannah is a UK market leader in the design, supply, installation, refurbishment and maintenance of a comprehensive range of passenger, service and platform lifts, escalators and moving walkways.