A platform stairlift perfectly designed for use over stairs
Our Stairiser inclined platform lifts provide the ideal access solution for public or commercial buildings which can't fit a vertical platform or passenger lift. These versatile inclined stairlifts can carry one person safely over a flight of stairs, seated either in a wheelchair or the choice of a person seated on the lift seat provided.
Our Stairiser is one of the slimmest wheelchair platform stair lifts available in the market. Simple to use and operate by the wheelchair user, it is the ideal addition, offering easy and safe access to your building. An unobtrusive design means when not in use the folding platform and barrier arm ensure the wheelchair lift folds neatly up and leaves the stairway free for pedestrian use.
Our range of wheelchair lifts for buildings is suitable for both straight and curved staircases. Typically used in existing buildings, the wheelchair lift can be wall-mounted or stanchion mounted, or a combination of both to enable fixing whatever the building restrictions. It's suitable for indoor or outdoor external use, plus it's neat and compact design means the installation can take as little as one day – leaving you being able to provide access for all in your building.
With more than 10,000 Stannah platform lifts installed across the UK, you can find our lifts in churches, schools, care homes, listed buildings, hotels and retail units. We will support you every step of the way, from design to installation and throughout the lift's lifetime - trust in Stannah.
Contact us to discover how we can help you with your individual requirements.
The Stairiser range at a glance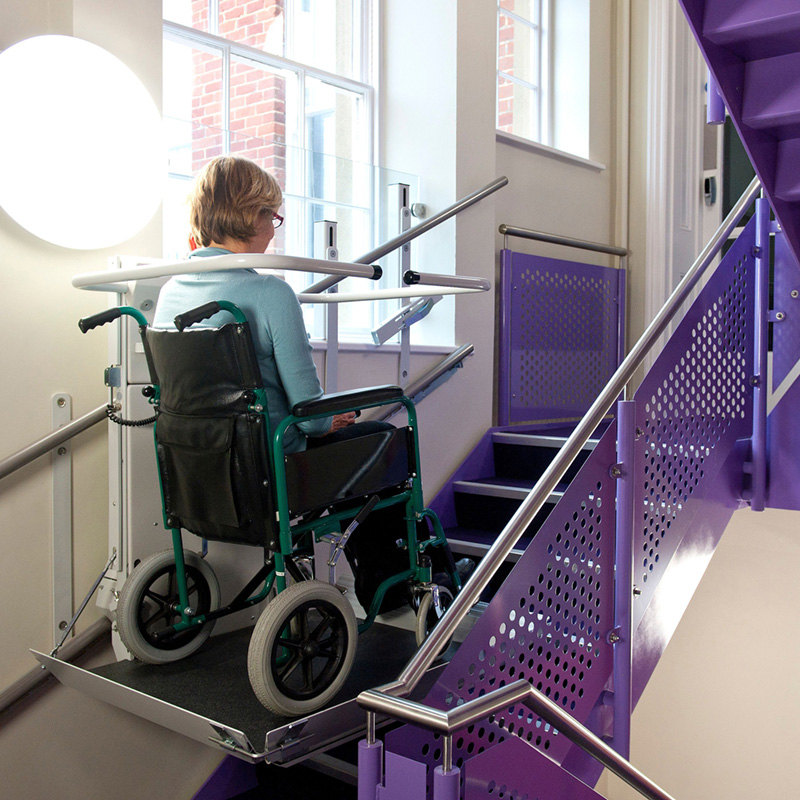 Stairiser SR
Designed to accommodate the needs of a straight rail over a single flight of straight stairs.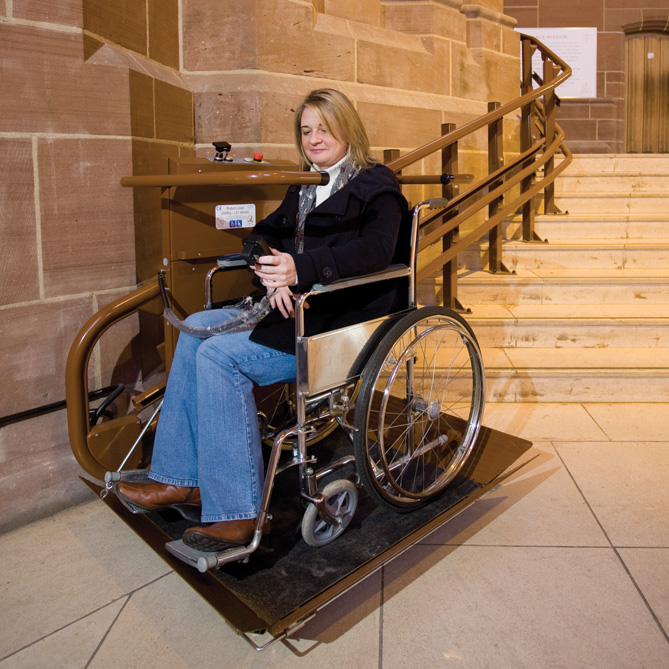 Stairiser CR
Designed to cover the needs on a curved rail, making it suitable for any run of stairs with a single turn or multiple landings. This model also allows the platform to be parked away from the stairs.
Model*
Choice
of Sizes
Standard
Load
Drive
System
Speed of
Travel
Power Supply
Drive Power
Noise
Level
Platform
Inclination
Platform
Depth
(folded)**
Lift Controls
Stairiser SR
Each available in 4 widths and a range of depths
250kg (wheelchair and user combined)
Battery-powered positive rack and pinion
0.1m/s
230V single phase
0.5kW
<60dB
0°-47°
300mm (max)
Constant pressure buttons on platform, remote attendant control
Stairiser CR
Traction rope drive
0.06-0.12m/s
Dependent on lift configuration
0°-45°
300mm (max)
* Not suitable for domestic applications due to stair width on most houses. Both models can be installed indoors and outdoors.
** Wall-mounted depths quoted, for stanchion please refer to the brochure.
Features and benefits
Flexible & slim design
When the wheelchair stairlift is not in use the platform folds neatly away, leaving the stairway free for pedestrian use.
A choice of fixing methods, parking options and drive layouts make it ideal for restrictive landing spaces and building limitations.
Easy to operate
Easy to use constant pressure controls allow wheelchair users (or others) to operate it independently.
The lift stops automatically at the upper and lower landings and the intuitive controls allow the user to stop the lift at any time.
Safety & standards
Built-in safety features mean it's impossible to operate the lift until the barrier arms and ramps are folded in place.
Complies with the Equality Act 2010, EN81-40 Safety rules for the construction and installation of lifts and with the Supply of Machinery (Safety) Regulations 2008.
Support every step of the way
From start to finish our dedicated team will be beside you. Once in service, your Stairiser can be maintained in tip-top condition day in, day out, by our dedicated engineers.
Design & Planning
All technical information and NBS specifications are available to download
Attractive range of standard finishes, plus bespoke options to match your building
Consultation with our design team on planning and specification, plus our technical team can provide you with quotes or budget prices
Not sure what you're looking for? Speak to our expert technical support team who will be happy to talk you through the options
Installation
Wheelchair platform stairlift can be wall-mounted or stanchion floor-mounted, or both to enable fixing whatever the building restrictions
Our dedicated team will manage the installation of your chosen Stairiser from delivery to handover, installing with minimal disruption to your premises.
Typically installation time is 1-2 days for our Stairiser SR and 3-5 days for our Stairiser CR range
Once the installation is completed, we test, commission and UKCA mark your lift
Planned Maintenance
Twelve-month warranty & servicing included as standard
Local maintenance service right across the UK, so an engineer is never far away
Our preventive local maintenance ensures safe, continuous operation, with options for 24/7, 365 days a year cover right across the UK
Supply of genuine spare parts to prolong your lift's life